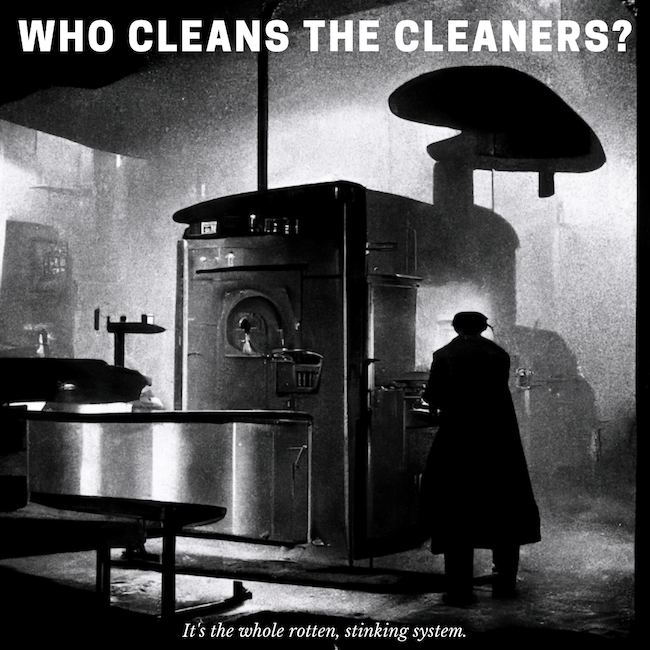 It's easy to mistake Frankenstories for a toy. To demonstrate how it can be used to produce "serious" writing, we entered the NYC Midnight Flash Fiction Challenge, using Frankenstories as a group brainstorming tool.
The competition
For context, all participants are given a genre, setting, and object. We were part of a cohort of entrants who were all assigned Mystery | Eating Contest | Dishwasher.
We then had 48 hours (Sat 2pm - Mon 2pm) to write a mystery of no more than 1000 words, set at an eating contest and featuring, at some point, a dishwasher.
Team Frankenstories method
Our team consisted of Andrew, Kat, Ruby and a couple of 9th/10th grade despots from our Discord.
Saturday: Game 1
A typical Frankenstory is ~250 words, so we decided to play 2 games of 8 rounds to give us a bit more content to work with (and also get a chance to check in with each other and discuss where the story was heading).
We needed an image to go with our pre-assigned text prompt. Mysteries and eating contests are both full of colourful characters, so we chose a character composite for image inspiration to give us a quick source of details to draw on.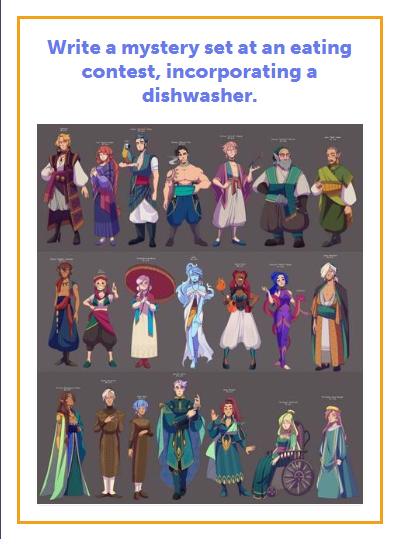 Here's where Game 1 landed us: A Plateful of Justice Part I
Game 2
Before jumping into Game 2, we debriefed on elements and themes we liked in Game 1, as well as identified gaps.
The main story had some interesting details, with more juicy moments hidden in the alternative replies, but one obvious gap was the lack of dishwasher.
We knew we needed some focus to get our detective into the kitchen, so we chose our next image prompt accordingly.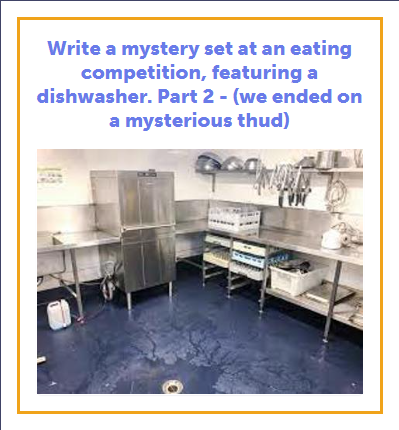 This is where game 2 got us: A Plateful of Justice Part II
Fun to write, fun to read (for us, at least), but far from competition ready. So is every first draft though. We discussed what we liked and what we thought was missing.
Debrief
Overall, we liked the hardboiled tone, the chaos of the eating contest, the character details. But the plot didn't hang together; there was no good explanation for the deaths of the contestants.
And the detective was lacking something.
Two 8-round games of Frankenstories + discussion is pretty exhausting. The whole exercise took us 2-2.5hrs of intense concentration, improvisation, and collaboration.
We bounced around some possible solutions, but we were too tired to do anything with them, so we did what all creatives do: we slept on it.
Sunday: Individual draft
On Sunday evening, one team member took some of the best elements and ideas from the Frankenstory drafts and subsequent team discussion and wrote a second draft.
Were the plates were poisoned? if so, how and why? what if the detective was a food safety inspector? what if all the action in this story was background action for a different story?
The new draft was a coherent story with a good 1940s hardboiled voice—but now it was 500 words over the limit!
Monday: Group edit & submission
Monday morning was an intense group editing and revision session in Google Docs, until we had something that was under 1000 words and still hung together as a story.
Ten minutes before the round closed, we submitted this story: Who Cleans the Cleaners?
At first glance, it might seem a completely different story, but most if not all of the key elements came out of the original games or the discussions during and after.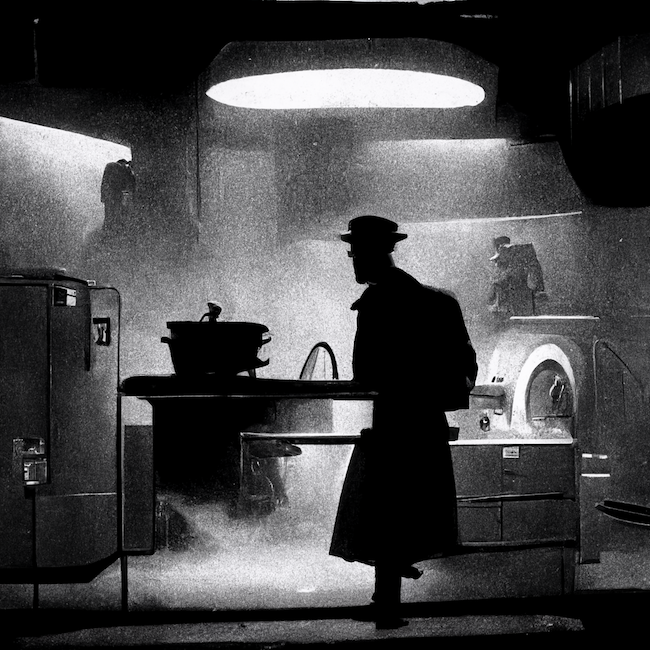 Two months later: We placed in our heat!
The NYC Midnight Flash Fiction challenge has four rounds, with 2 months for judging between rounds.
We submitted Round 1 in June 2022, and in August we got the results: we placed 4th in the Mystery | Eating contest | Dishwasher cohort!
This is a great result, giving us 12/15pts to add towards our total in the next round.
Judges' feedback
We also had some great feedback from the judges. The biggest issue for readers was clarity around the role of the narrator and the meaning/motivation of their actions at the end—which was fair enough: a lot of that was cut in the 500-word Monday-morning edit.
But rather than dwell on the critical feedback, let's wrap up this account with feedback from the most enthusiastic of our judges:
From beginning to end, I love everything about this story! The detective's voice is so distinct, so very 1940s detective. The clever little jabs the story contains add layer upon layer of depth and humor. The writing style of short, chopped phrases lends to the characterization but also to the atmosphere of the story. The ending is brilliant, tying in the title extremely effectively. And the choice of "killer" is unique. I also love the way you've woven in the science bits. Ahh--well done!
Try it yourself
Overall, this was a really interesting test in how you might use Frankenstories to produce a "serious" competition-grade piece of writing.
There's a lot more collaborative detail than we've described here, but we hope this example encourages you to try something similar in your own context.
(And straight after we got our feedback for Round 1, we got our prompt for Round 2: Comedy | Emergency room | Mouthwash—which we submitted 48 hours later. But more about that in another article!)